Te Ahu Ahu Road
Info+
The cube-like volumes of this new build on an exposed ridge in West Auckland are crisp against a skyline where the view flows in to puncture the façade. A builder's own home, the weather-beaten cladding and casual planning belie the precision of the finish.

Designed for an active family of four, the architecture has relaxation at its heart. In concept, layout and aesthetic, it is bach-like and open-plan, albeit a permanent abode.

Visitors enter via a deck from the north-facing courtyard that runs through the guts of the larger two-storey form. Wide sliding timber doors that book-end this aperture frame distant views of Karekare beach to allow a picturesque welcome.

The lower level of the home includes a kitchen, living and dining zone which steps down to a conversation pit. To balance the sense of open-ness in the rest of the dwelling, there's intimacy to the space with its built-in bench seating and a fireplace that offers snug respite against the elements.

Upstairs, the bedrooms and bathrooms hunker underneath a roof with the minimum pitch which meant no visual clutter of parapets. Unpretentious materials such as concrete flooring and Strandboard ceiling panels joined in jigsaw-like fashion are elevated to the artful by the zero-tolerance approach to construction. Clean mitres edge the cladding and standard timber dowels create a decorative screen on the stairwell. In the kitchen, a benchtop is hand-crafted from collected oak beams; it cantilevers above a concrete base and waterfalls gracefully down one side.

A garage wing with industrial-size sliding doors provides storage for beach toys and extra room for guests to bunk up. The main house and its utilitarian companion are at right angles to each other. They are drawn together by a square of lawn and areas of decking that seem to float above the ground. This simple-yet-striking geometry creates a home with presence on a site that could quite easily claim all the glory.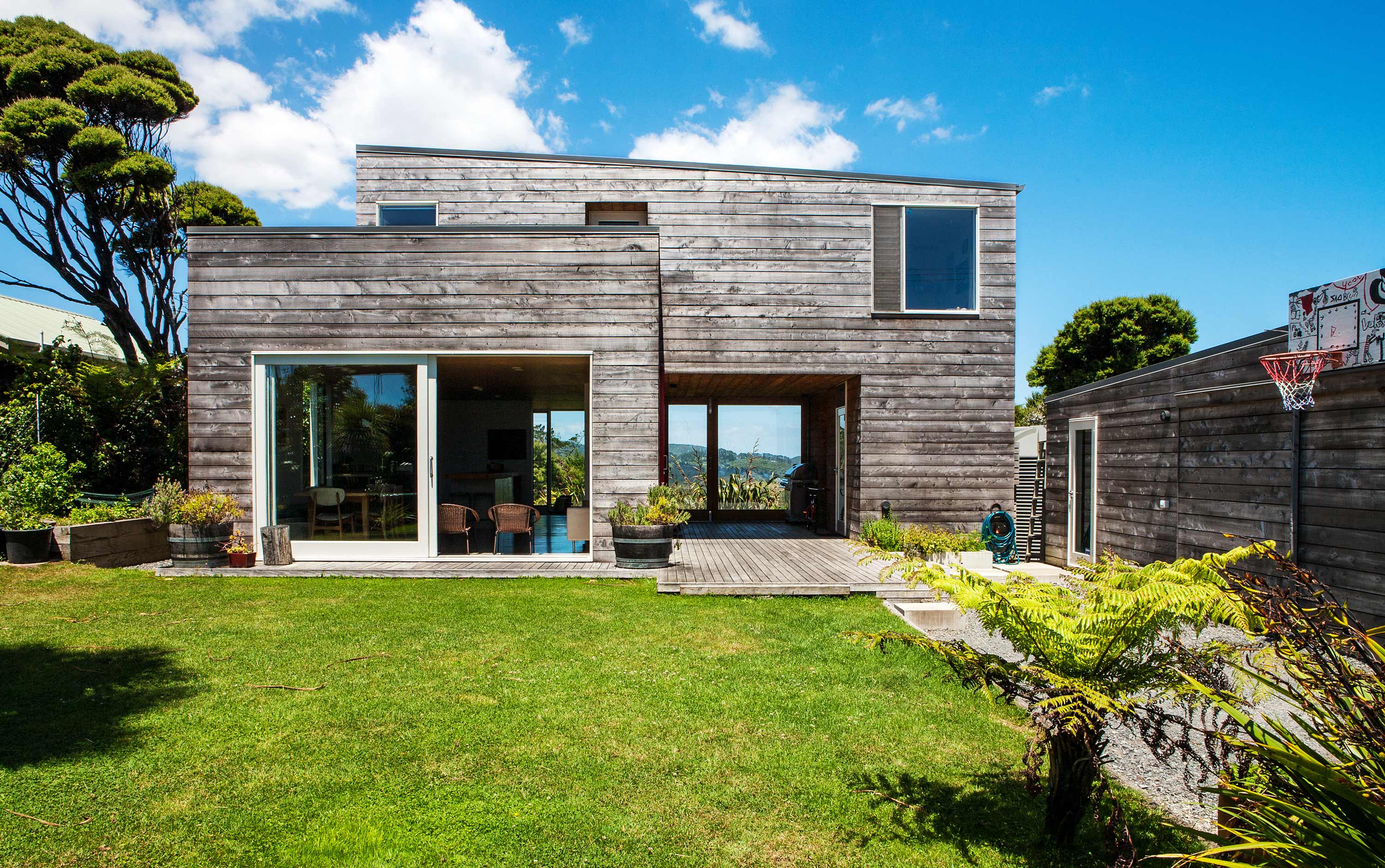 Location - Piha, Auckland
Project type - New Build
Year - 2009