Scotts Landing
Info+
Keeping in step with the casual nature of a beach house was imperative in the design of this sleep-out and adjoining wet room in Scotts Landing on the Mahurangi Peninsula. Where the view is spectacular and there's a great deal of amenity already provided by the main dwelling, it doesn't make sense to compete.

The owners wanted to offer stand-alone accommodation for extended family members with young children and the project was conceived as a collection of little huts encountered along a pathway from the existing holiday home. A humble aesthetic takes its design and colour cues from a tiny shed that was already used for extra sleep room; the gabled rooflines also echo that of their pre-existing neighbour.

Plywood board-and-batten cladding and Strandboard flooring in the bedroom and bunkroom lend a nostalgic, 70s feel to the no-nonsense design. Built-in bunks hark back to the campground cabins of old, yet a few design touches glam-up the end result. Plywood wall and ceiling linings are rich in texture and warmth, while thoughtful window placement allows little moments of magic. In the master bedroom area, a low window, with a deep sill for storing books, offers a bed's-eye view of the bush. Black-stained ply shelves are a crisp contrast to the honey-toned walls.

Across a breezeway, the bathroom incorporates elements of luxury including natural stone tiles and a much-used ladder towel rail. A freestanding bath is located directly in front of a picture window to make views of the harbour part of the spa-like experience.

Utilitarian aspects were well considered with storage under the bunks and an extra bank of cupboards along one wall in the room that houses the loo. An outdoor cloakroom for muddy boots, raincoats and wet beach towels was tucked under the eaves of the bedroom cabin.

Although this family sleep-out is only 11 metres from the main home, the bathroom hut is staggered to the rear of the little grouping. By placing it out of the line of sight, privacy is assured. A rounded knoll was formed in front of the cabins to ensure they hunker discretely into the steep section. Robust materiality and architectural accuracy combine to ensure these mini structures offer some comforts of home but still celebrate the natural surroundings.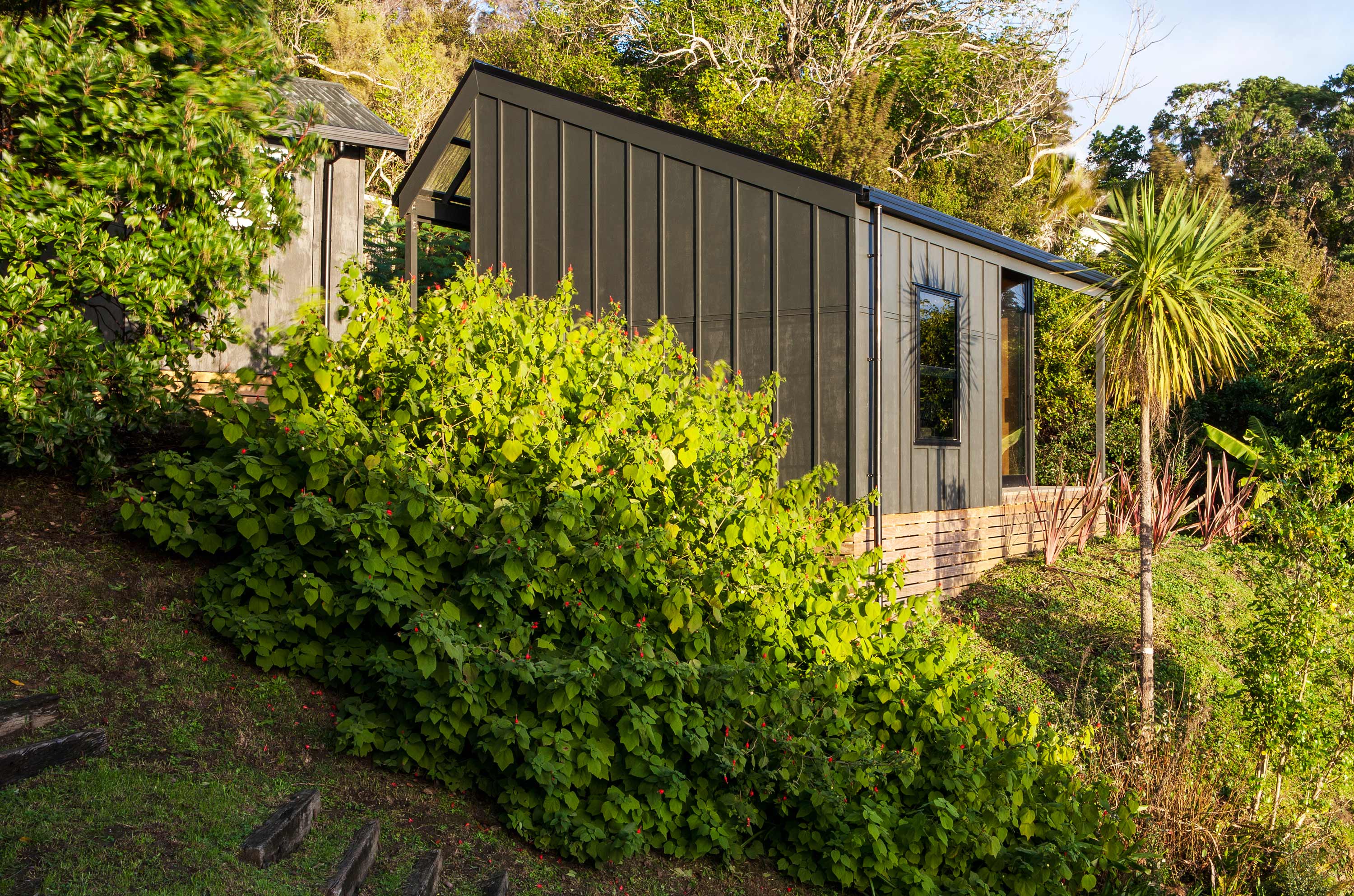 Location - Mahurangi Peninsula
Project type - Renovation
Year - 2014