Pt Chev
Info+
With smart-classic lines, and a Vernon Brown-style black-and-white colour scheme, this bungalow in Pt Chevalier is a much-loved home to a blended family with five children. Fitting then that when commissioned for a stand-alone retreat for two teenage boys of university age, DAA took a design direction that was distinct but paid homage to the main house.

By demolishing an existing garage and placing this minor dwelling on its footprint, a sheltered L-shaped format was created to wrap around a lawn and pool. Visual links between old and new maintain continuity. A cantilevered roof above the extended deck of the original home reaches across a walkway to the sleep-out's front door. Dark-stained Shadowclad on the addition echoes the tone and tongue-in-groove profile of existing weatherboard while its elongated form and the double-storey monopitch roofline affords privacy from the neighbouring property.

At the end of a permeable shell and sleeper pathway, a bright orange front door signals entry to this private pad, set up for work and play. Entry is into a common room (with comfy sofas and a TV) that is also enjoyed by the other young members of the household. A media niche with built-in desk and shelving is tucked off to one side; sliding doors provide access to the pool and garden.

With true fair-mindedness, two mirror-image bedrooms of equal size flank a shared bathroom. A triple set of casement windows in each bedroom support this symmetry. They bring in floor-to-ceiling light which makes the rooms feel more spacious.

Simple lines and robust materials –think concrete floors and long-run metal roofing - kept the costs in check and the outlook flexible. The sleep-out could just as easily become a pool pavilion with guest bedrooms (there's even a space for making tea and coffee).

In the meantime, the owners are pleased to share the garden with a host of teenage visitors who come to enjoy the scene. With tropical plantings around a pool, a hot tub for winter dips, a foosball table and TV all on hand, it's like a mini resort right in the backyard.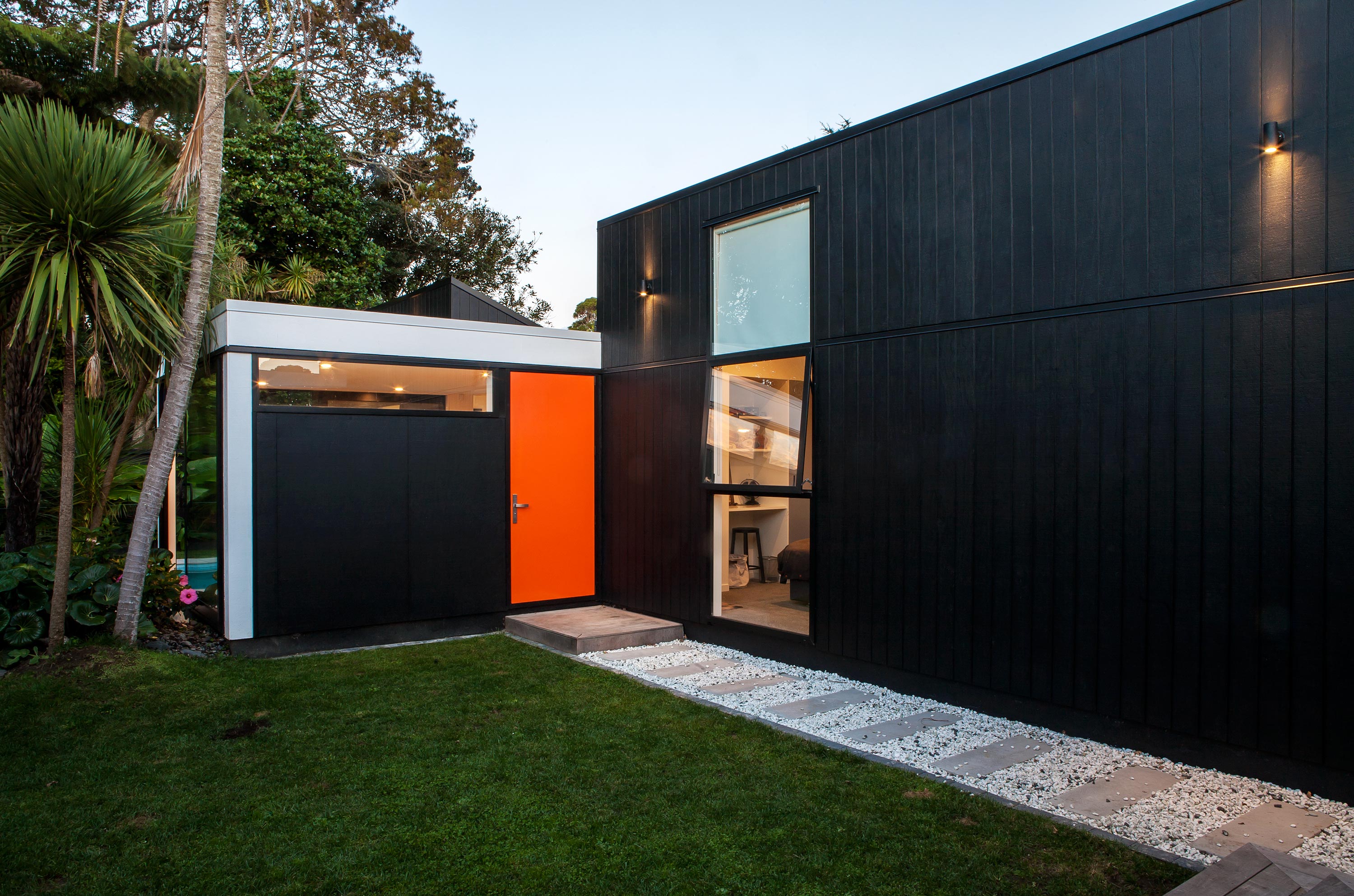 Location - Pt Chevalier, Auckland
Project type - Renovation
Year - 2016