Carrie St
Info+
This standard bungalow on a standard quarter-acre section had the standard problems of its era: rooms oriented by rote and no connection to the backyard. A gabled roof that rose five metres at its apex made the dwelling look tall and blunt, rather like a school hall.

An extensive renovation and addition to the home retained its character features and achieved free-flow living for this family with three young children. Within the weatherboard bungalow, spaces were reconfigured, mainly as bedrooms. The former living room became a play-space with built-in shelving that hints at what is to come. It also provides a visual link between old and new.

The owners' tongue-in-cheek brief to create "a Brazilian jungle house" was used as reference for the stepped-down addition. It takes the form of a garden room, anchored closely to the earth and clad in vertical cedar. Internally, concrete block walls form an industrial backdrop to the kitchen in this open-plan space. The brutal nature of raw block and concrete floors is balanced by the warmth of gaboon-ply cabinetry and plywood ceilings.

Although the palettes of the two forms are in contrast, exposed triangular trusses in the pavilion echo the pitch of the gable. Extra-wide joists traverse the threshold and continue to the edge of a covered terrace, accessed via large glass sliders.

Leading from the terrace floating concrete 'lily pads' step playfully up into the house, their edges bounding an internal garden lush with sub-tropicals - a touch of Brasilia in the burbs.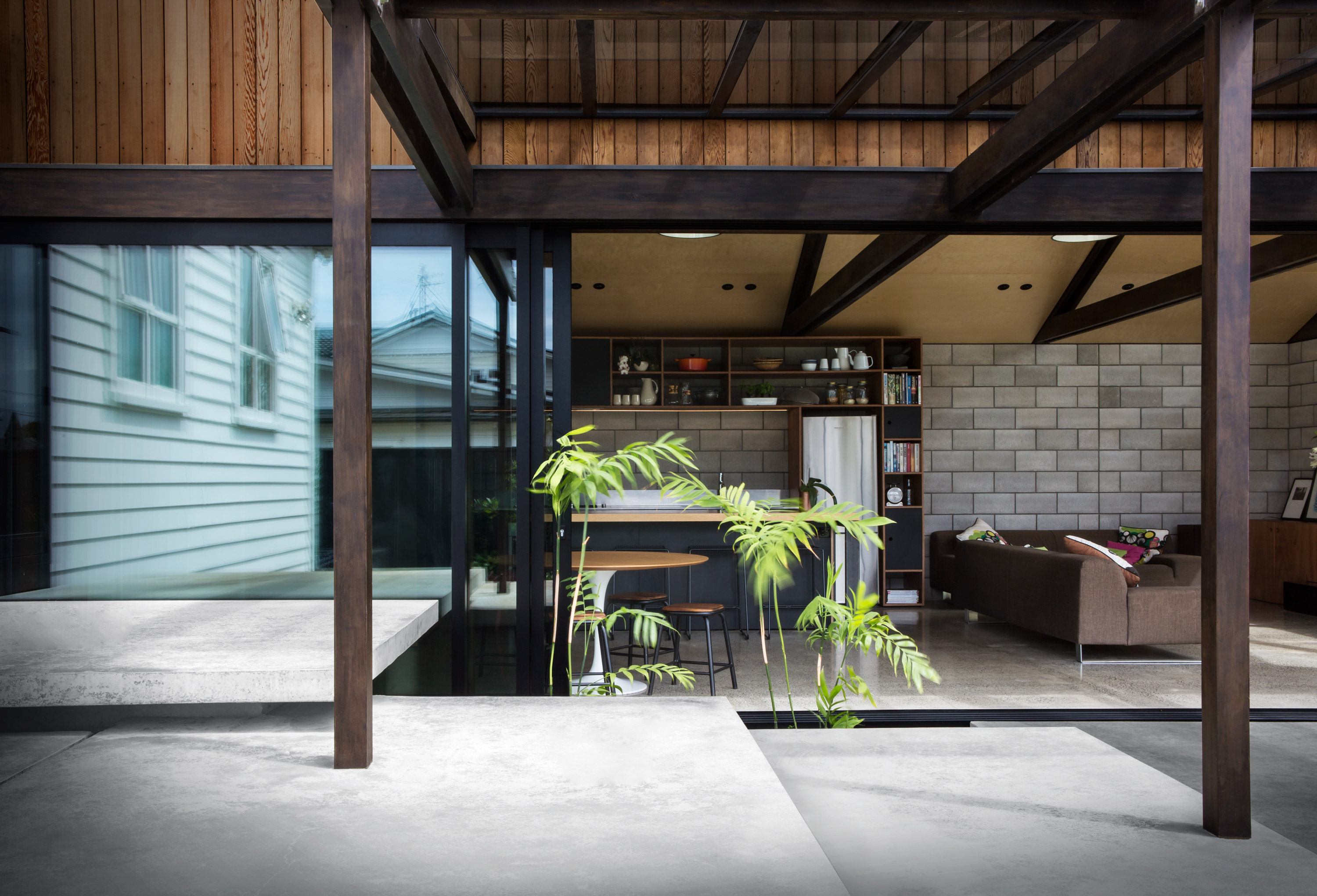 We found the creative process inspiring, collaborative and felt well guided through each step of the building process.
Location - Sandringham, Auckland
Project type - Renovation
Year - 2017