Parr Tce
Info+
This Sixties home designed in the Eichler style had many elements that were easy to love. Exposed beams gave character, windows stretched to the sloping ceiling to let in ample light and the double-storey Castor Bay house was oriented for spectacular views of the city. The architectural pièce de résistance however had to be the open-tread stairway around which the circulation plan revolved.

A significant renovation, completed in two stages, has kept the steel-balustrade stair the hero of the set-piece but turned this Sixties' special into a future-perfect family home. In the first stage, the floorplan was altered slightly to create a master bedroom and en suite where now floor-to-ceiling oak cabinetry spans one side of the room and the re-orientation allows a bedtime tableau of the city lights and Sky Tower.

In the second stage, the upstairs kitchen, living and dining room were made lighter and brighter. Retro-fitted ugly duckling features such as smoked glass and aluminium sliders were removed and replaced. From the entry with its cheerful yellow front door, the sculptural staircase weaves up through the guts of the home. The living zone has a backdrop of bush and the faraway city, and two new decked areas were created on either side of the renovated kitchen. One faces north to the sun, the other south to the view.

Re-roofing, repainting, re-flooring – the revival of this home took commitment to complete. But keeping the good bones of its semi open-plan nature and updating the aesthetic with serene tones of pale woods against white walls, has produced a win/win: the best of the old and the best of the new.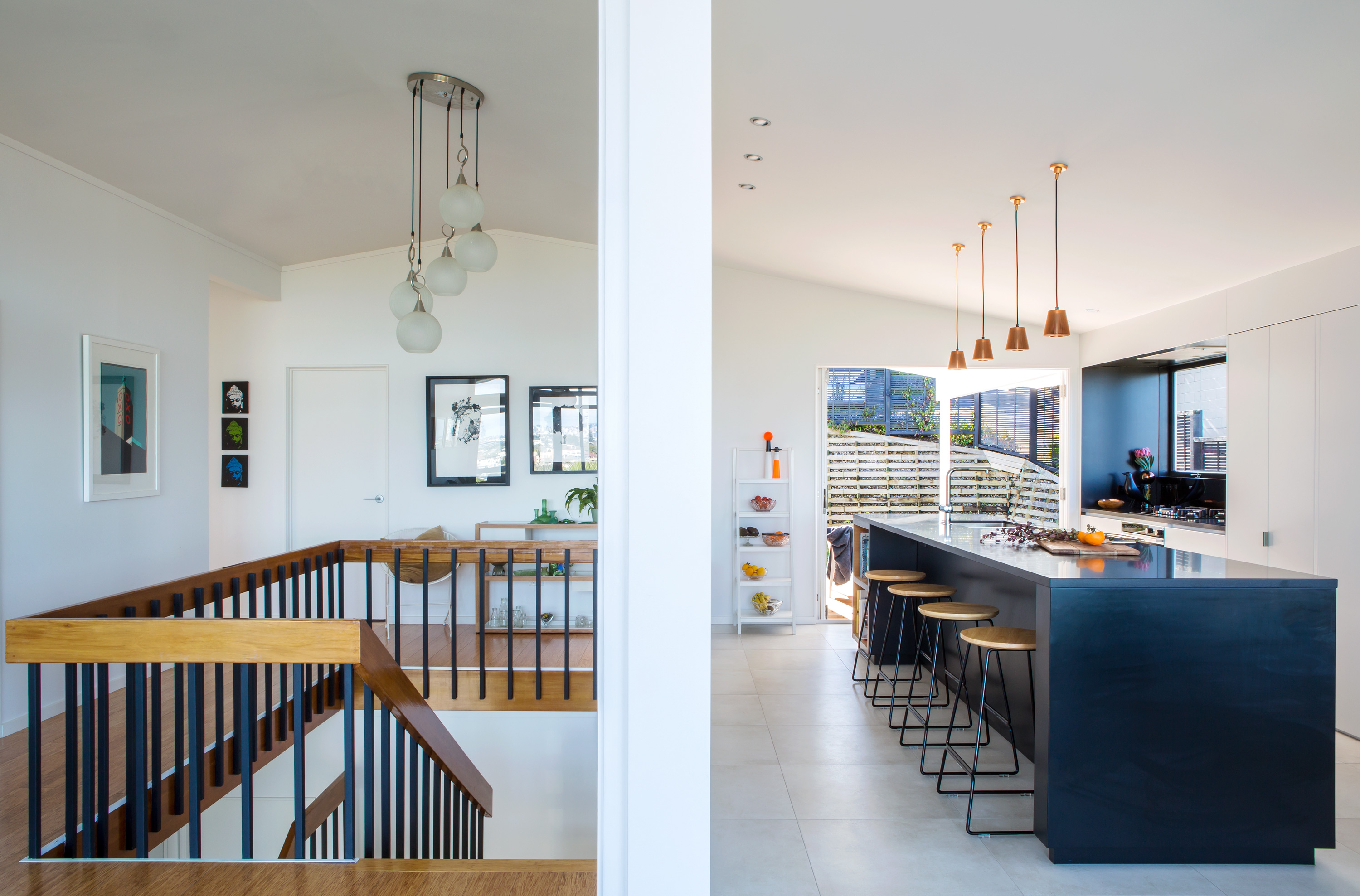 DAA's design process was a joy.
Location - Castor Bay, Auckland
Project type - Renovation
Year - 2013