Grosvenor Street
Info+
This bungalow, in the city-fringe suburb of Grey Lynn, had been renovated over the years in familiar fashion - with a series of ad hoc lean-tos that made the interiors a labyrinth of dark, awkward spaces.

The practicality of an original bungalow is its simplicity of structure that allows the dwelling to feel roomy on its footprint. Its charm is in the distinctive detailing that makes it of an era. So the plan was simple: bring the home into the here and now by re-instating much of the initial design and then create a contemporary addition that nevertheless referenced the bungalow aesthetic.

Once all the add-ons were subtracted, the high, hipped roof remained. Beneath it, walls were removed and repositioned to ensure good-sized bedrooms and bathrooms that were more useable for a young, boisterous family.

A modern pavilion now extends from the rear of the dwelling to provide a living, dining and kitchen area that flows easily into the garden. To avoid a clumsy connection between old and new, it is linked to the bungalow by a 1-metre-wide breezeway.

Exposed glulam timber portals set up a rhythm to the architecture here; they extend beyond the glazed sliders to cross the boundary between the pavilion and the deck. A mono-pitch roof brings volume while a wall of white-lacquered cabinetry enhances this sense of lightness. The materiality of the Kiwi bungalow is echoed in grooved ply ceilings and overlaid oak flooring which runs seamlessly throughout the home. An existing fireplace was modernised to form a focal point within the open-plan space.

In one corner of the pavilion, a bench-seat was incorporated into the design of the kitchen island. From this vantage point, the owners can read in the warmth of the low winter sun as it floods into this box of glass and timber.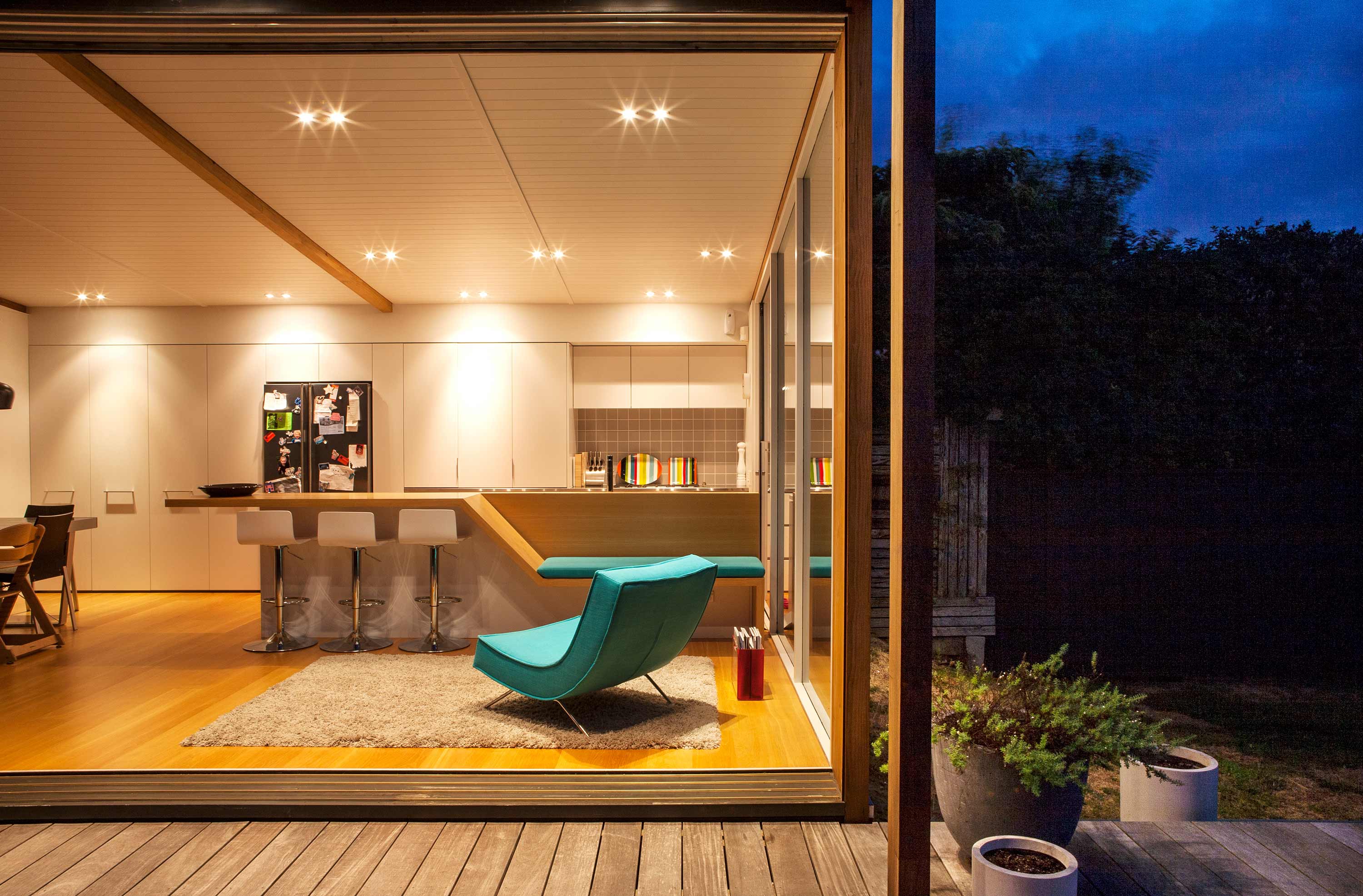 Location - Grey Lynn, Auckland
Project type - Renovation
Year - 2012