Fife St
Info+
In the inner city suburb of Westmere sits an unobtrusive low-lying cedar wall capped by a hipped black roof. Subtle planting provides a buffer between the house and the footpath, whilst still allowing it to connect with the street.

Disguised by the cedar wall is a 'stealth' home designed in response to the classic brief of an architectural family home for four on a budget.

The hipped roof raises up above a dumbbell shaped plan, with a cutout in the north facing long side, providing an internal courtyard and late afternoon and evening sun.

Beyond the front door the ceiling soars above with cedar lined T&G up to 4 metres plus at the ridge, providing an airy open entry.

The dumbbell shaped plan encompasses open plan living, kitchen, dining to one end with the main bedroom, garage and entry to the other. The narrow point allows for the courtyard which is bookended by the living room and main bedroom at each end.

In turn the narrow point provides a hallway and includes a 'hidden' guest bedroom, laundry, guest bathroom and stairway.

Downstairs belongs to the kids. Both bedrooms open from a rumpus room and onto the back yard and pool area, which in turn opens onto park access.

Materially there are 2 strong brick spines bracketing the long boundaries, with high level windows providing light and sun and general privacy from the neighbour.

The courtyard provides a green escape in the middle of the plan perfect for evening sundowners. The rear covered deck from the kitchen overlooks the back yard, pool and the park beyond and is in turn connected to these via a generous stair.

Formal planning has been broken down to create a flow of spaces with various orientations and ambiance.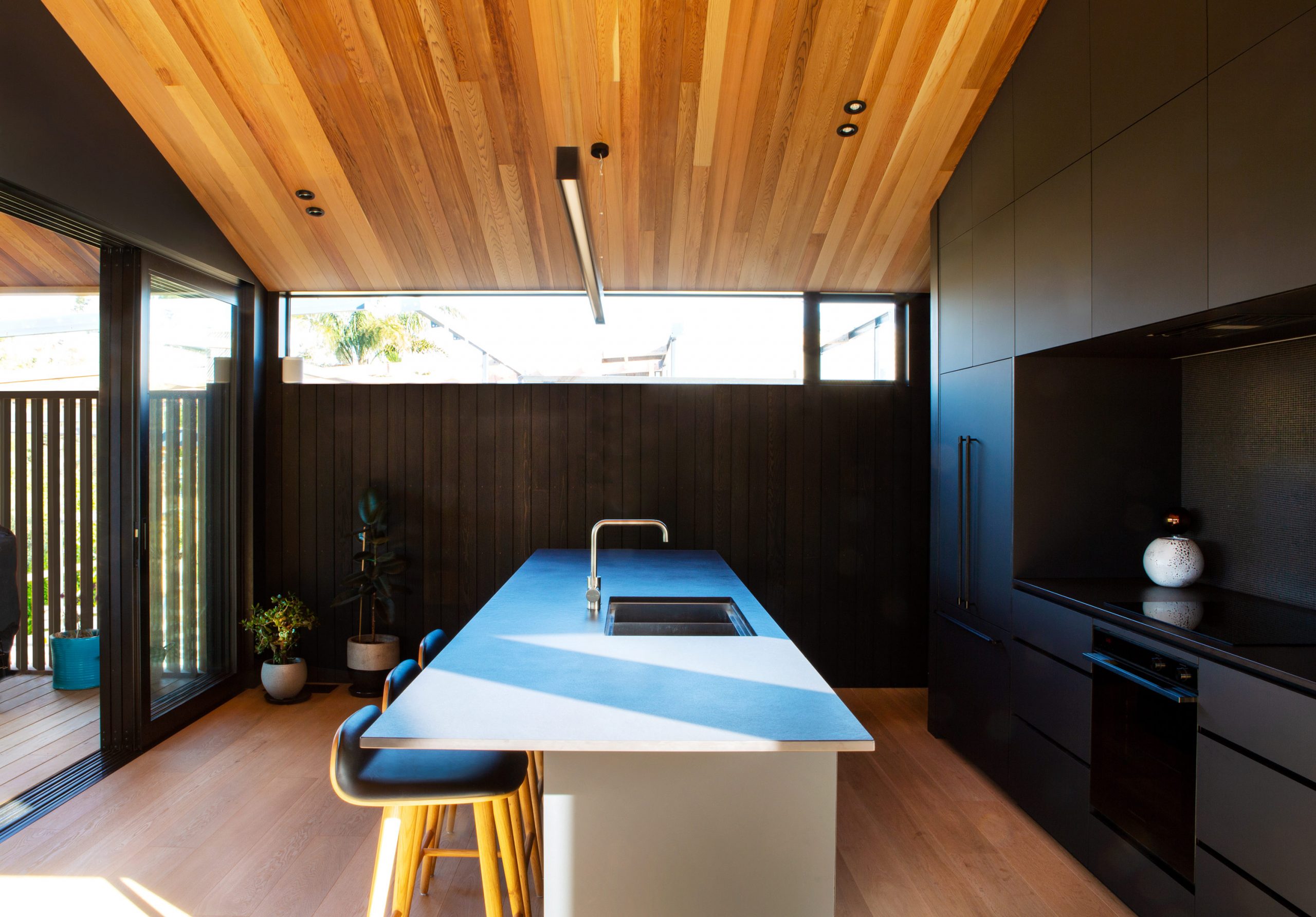 We were blown away with the design which far exceeded what we thought was possible on our budget and space. We were also very impressed with extra design surprises that we had never envisaged. Tim listened to exactly what we wanted and we love our house.
Location - Westmere, Auckland
Project type - New House
Year - 2019