Dorset Street
Info+
This classic family bungalow in Westmere had previously undergone renovation work but in a rather hum drum fashion. The kitchen, dining and living areas opened to the rest of the house and the bedrooms and bathroom predictably came off these spaces. All very liveable but not exactly inspiring.

With two rapidly growing kids came the need to create more space, including a separate second living room and adjoining private adult suite, to be slightly removed from the rest of the house.

The brief also asked for an overhaul of the fairly small backyard area where the family does the majority of their living. A pool, lawn, garden, deck and built in pizza oven were required.

With limited land area the design needed to be a study in proportion and space, accomodating the requisite rooms without becoming too big for the site and still incorporating the backyard living area.

The new master bedroom suite extends towards the rear of the site on the western boundary and opens to the garden via full height bi-fold doors. Cedar clad and stained black, this "stealth-fighter" form is faceted along its walls and roofline in a dramatic contrast to the white painted weatherboards and traditional gable of the original.

The form which is stepped down, further accentuating the feeling of separation, flows into the bungalow proper via a cedar wrap, blurring the junction between the old and new and incorporates a raised timber deck and built in pizza oven and outdoor kitchen bench.

The affiliated second living space and built in office opens on two sides ensuring plenty of sun and an outlook onto the hidden garden of lush native planting on the boundary, giving privacy from the western neighbour.

A kitchen overhaul created room for a butlers pantry and separate laundry and storage space. White cabinetry contrasts nicely with a black kitchen bench which is wrapped with timber at both ends, tying into the timber-lined ceiling in the dining area and corridor link to the new suite.

A spacious family bathroom, private ensuite and plunge pool complete the brief and this family home is well and truly ready to accommodate the needs of this soon to be teenage family.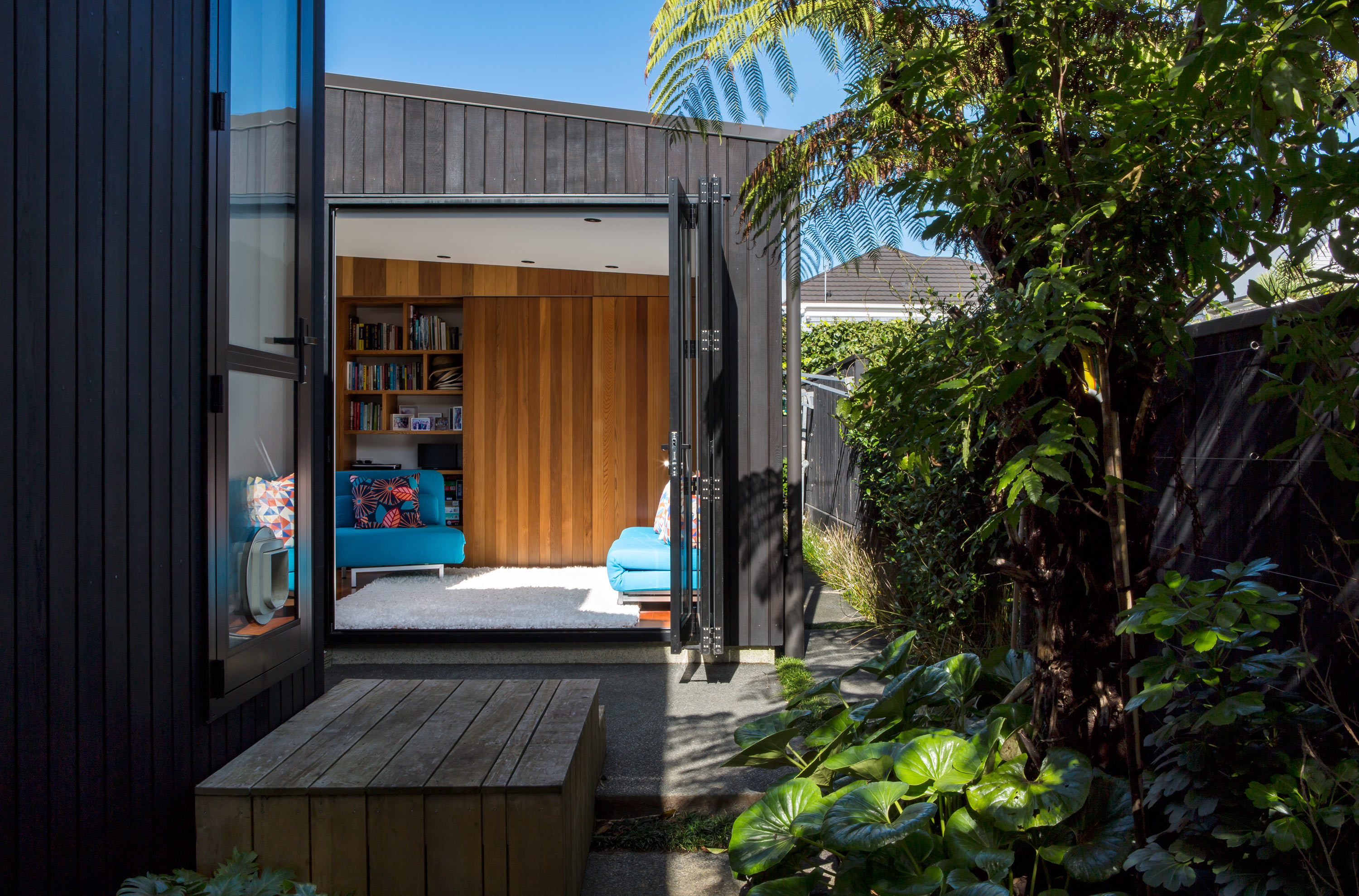 Location - Westmere, Auckland
Project type - Renovation
Year - 2016