Coates Ave
Info+
Having lived in the original house on the site previously before an extended stay in Australia, on returning to Auckland this family desired a new house that maximised the special location they loved, whilst providing for the needs of a family of three almost-teen children.

Extensive outdoor living and space for the kids and the dog to play outside were required, as was the need for privacy from the neighbours. The house sits down a right of way and is surrounded on all sides by other houses.

The form of the house is a crucifix with the bottom floor running east to west and the top north to south. This shape allowed the buildable envelope to be maximised, so that floor levels could be as high as possible. The second floor captures stunning views of Rangitoto and its cantilever provides shade for both the front and back yards.

The east to west alignment of the bottom floor maximises the yard area available both sides of the house. The main living area which incorporates the dining room, kitchen and a study nook, opens both ways, flooding the space with light and giving easy access to both areas. This space is anchored by a brick wall that runs from outside in.

In contrast to the openness of the expansive living area a brick lined snug to the right of the entry provides a cosy room to retreat to. Again multi purpose this is where the family can watch TV or read and there is also a home office set up here. Once more opening to both the front and back, the easy flow of the house continues.

The modernist form of the house is a nod to the original and other modernist features are seen in the bright yellow accents, bricks and the crazy paving that runs from the front patio area indoors to the entry.

The black timbered central hub beyond the entry contains a luxurious hidden powder room, spacious laundry and boot room and a butlers pantry.

Upstairs contains a sun-drenched master suite with a corner full height window and window seat. The kids bedrooms are also upstairs, along with their bathroom and kids lounge which opens to a deck.

Just like the Stahl children of the iconic Pierre Koenig designed Case Study house # 22 in the Hollywood Hills the kids have discovered that flat roofs overlooking swimming pools are just too tempting and jump from there into their pool as regular entertainment.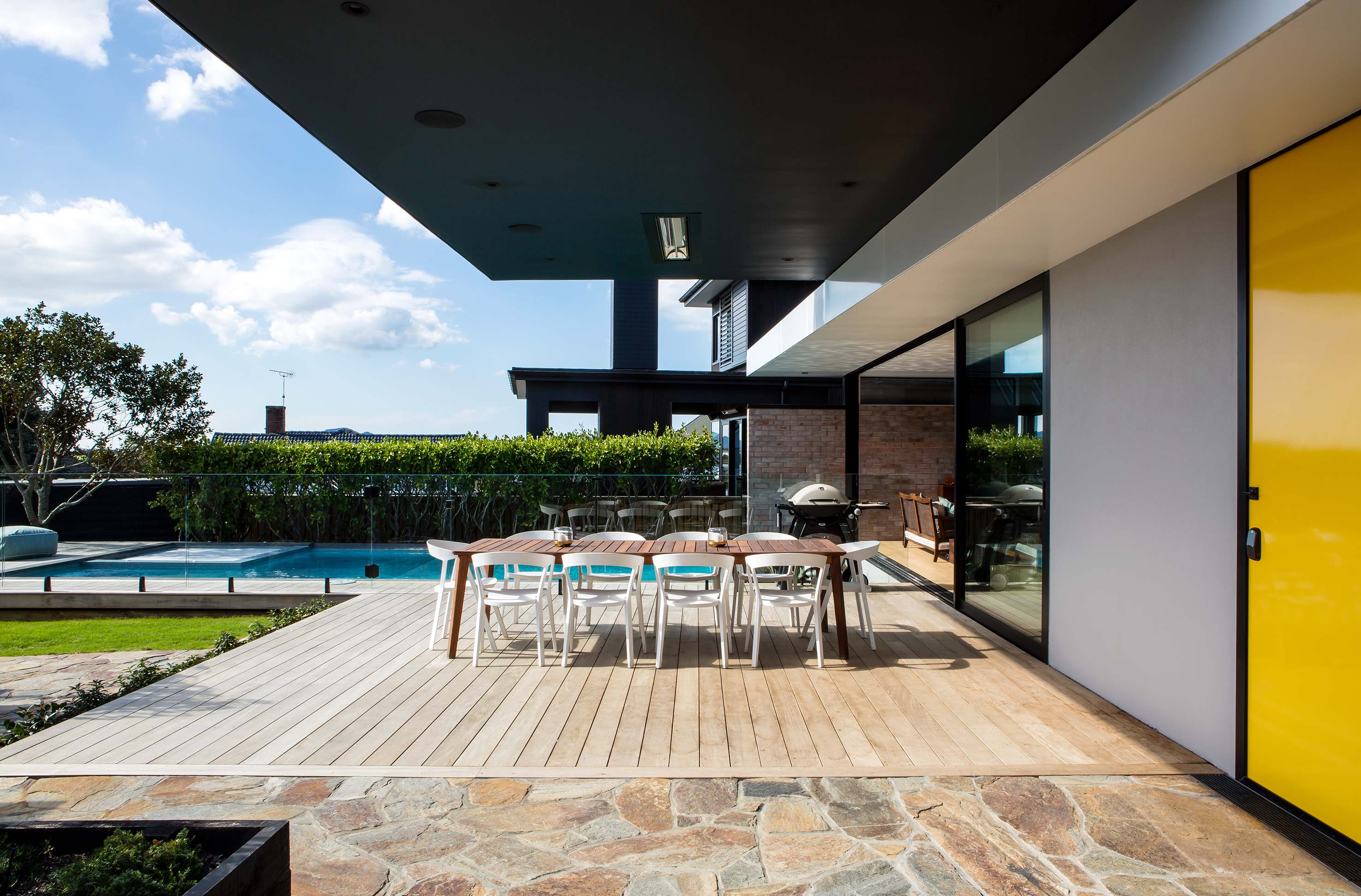 Location - Orakei, Auckland
Project type - New House
Year - 2018