Broomfields
Info+
This property in the green-field landscape of Whitford was once an assembly of three gable-roofed buildings in red clinker brick reminiscent of today's Pizza Hut stores. Now they are transformed into a gathering of rural 'sheds' appropriate to the setting.

Emerging from a pristine paddock, the home has a farmhouse feel. Gabled forms with a white plaster finish and long-run roofing are solid and timeless. Beyond, though, an elegant box with slim-line windows and cedar coat alludes to what's to come.

The architects retained the floor slab of the original property and the bricks to window height. They then lifted the gables with exposed trusses to capture a cathedral-like quality. Externally, the clinker brick was plastered, bagged and painted. The internal planning was completely reorganised so the project becomes a representation of what once was, rather than a renovation.

The nucleus of the floor plan is a pavilion which has an open-plan kitchen, dining and rumpus room for the family and their three boys. It links the generous living zone and library accommodated in one gabled structure with the second – a boys-only wing with bedrooms and a bathroom. The third gabled building contains the double garage.

A new master bedroom suite hovers above the pavilion - a cedar box which cantilevers above the courtyard to provide shelter from the elements. The views from this upper level stretch for miles across pastoral landscape to the inner harbour.

Once the spatial conundrum was sorted, the home offered a seamless connection to the environment. Banks of glass sliders open to a kidney-shaped pool which has been resurfaced; a plate-glass splashback in the kitchen reflects the view. Behind the public areas of the pavilion, runs a 'secret' section of the house - a service core and an extra bedroom are concealed behind a wall of cabinetry.

With 500-square-metres of living, the budget was stretched to its limit so the game-plan for the interior design was teaming smart buys with moments of magic. A yellow front door delivers mid-century punch and a floating, open-tread staircase is a light-as-air sculpture. The master bathroom loads on the drama with inexpensive black hexagonal tiles paired with circular mirrors and statement Bramah pendants from Simon James pendant lights.

This home re-born is a place that acknowledges its country roots, has a fair measure of modernist style and just enough contemporary components to achieve the idyll of smart-casual family living.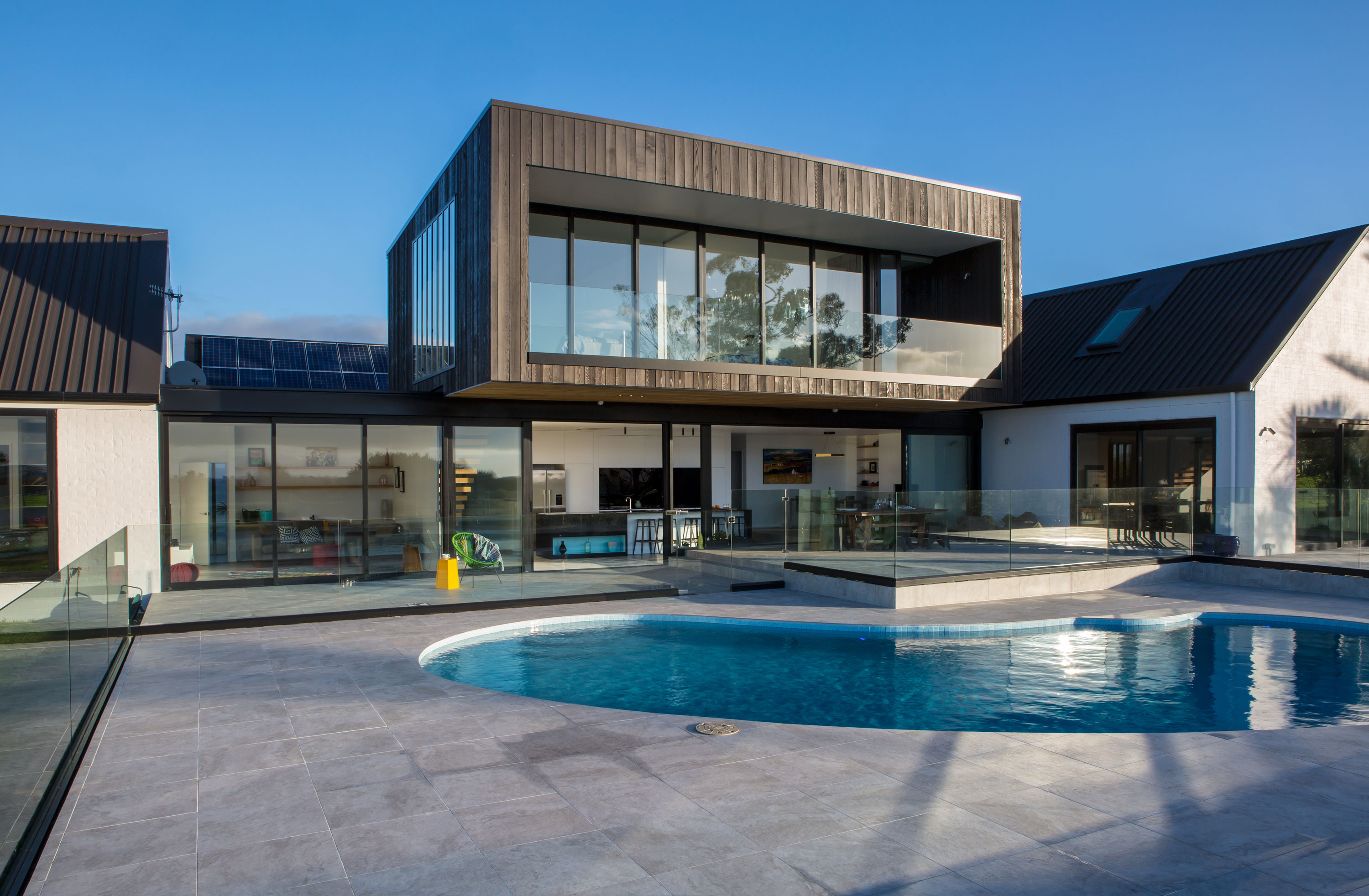 Location - Whitford
Project type - Renovation
Year - 2016