Godden Cres
Info+
This classic modern house is designed around a number of mature trees, in a park-like setting. The house is designed as a collection of blocks linked by a flat-roofed element, housing the entry and gallery. The gallery space leads you past an interior courtyard and pool and on to the main living area, where a strong connection to the garden is maintained via large glass sliders on both sides.

The kitchen, living, dining and outdoor room open on one side to the east-facing garden, and on the other to the pool courtyard. With the sliders open the courtyard becomes an extension of the main living and gallery, connecting this space seamlessly to the rest of the house.

Strong axes are formed from the entry down the length of the gallery to the garden beyond and along the length of the pool to the courtyard garden and spa area. The interior design was handled by Debra Gardien, artfully working in with the architecture.

The front yard and entrance were designed so a mature Pururi tree could be retained. Two garage blocks with guest spaces above each, create a very private façade. The space between the two blocks creates the entry space.

The main bedroom suite has its own access via stairs from the entry gallery. Glass sliders can be opened for uninterrupted views over the pool and courtyard to the city and harbor beyond. The gallery is divided into two – public and private, the private hallway can be closed down and links the living area to the children's bedrooms and service areas.

A sunken lounge concealed behind the kitchen is a deliberate contrast to the openness and light of the main living area. Here subdued light, plush furnishings and carpeting provide a cozy snug to retreat to. The window providing a view of the garden echoes a similar window in the butler's pantry.

Materials used include stone cladding over concrete block and stained vertical cedar shiplap weatherboards, black powder coated aluminium window frames and Color steel tray roofing and membrane roofing.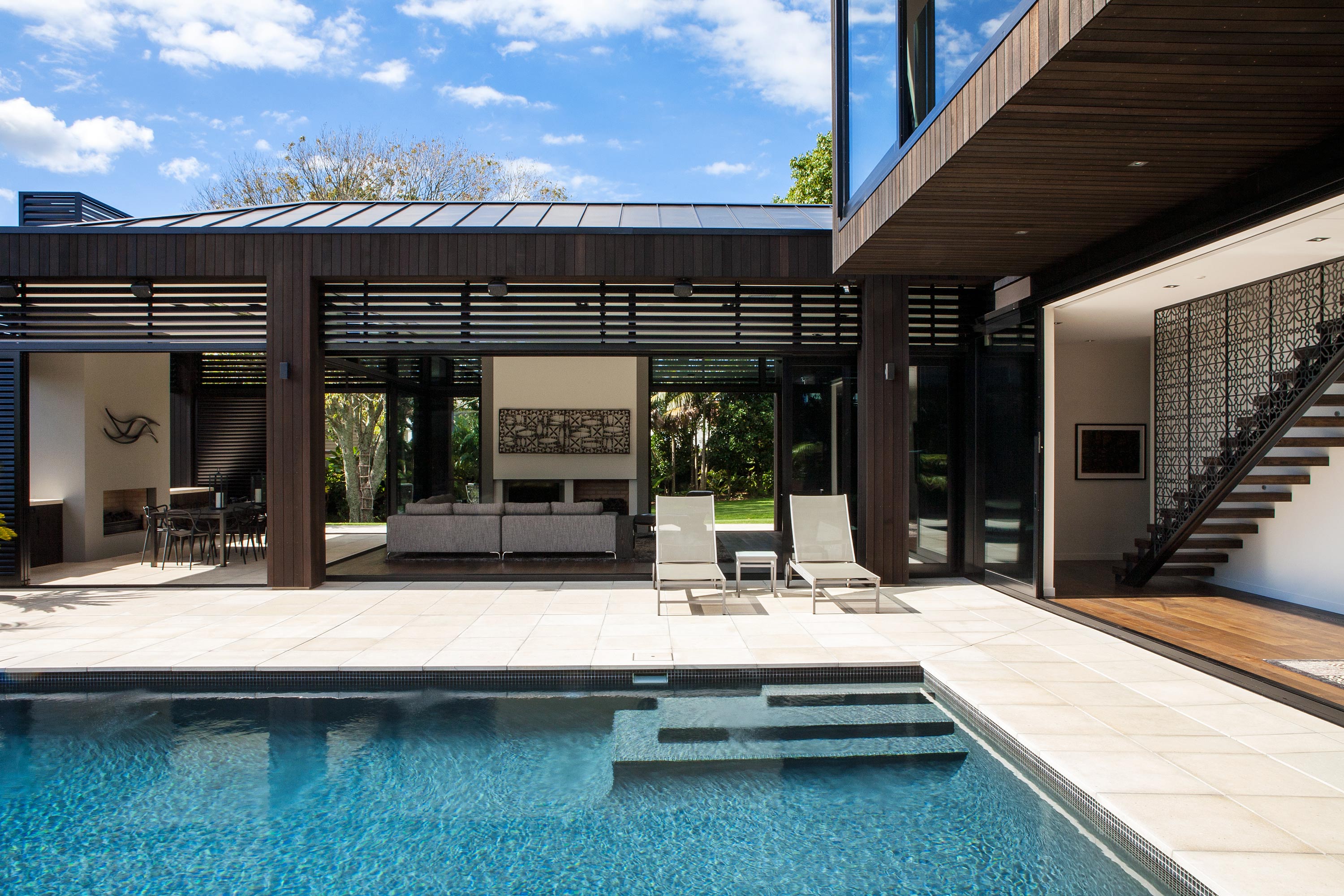 Location - Mission Bay, Auckland
Project type - New House
Year - 2012