Whitmore Rd
Info+
Situated on a grassy meadow with sweeping views to the south, this house combines a certain New Zealand rustic charm and functionality with a confident design ethos.

Appearing as a collection of steeply pitched forms randomly scattered on the lawn, the playful nature of the house is obvious upon arrival. Random these are not however, linked as they are via a black band of flat roof which ties these spaces together, as well as providing the circulation for the house.

The vaulted ceiling helps this petite house feel more grand than its actual size, weighing in at only 96m2 plus the garage, it feel spacious and expansive. The built in furniture and generous openings to the exterior, on three sides of the living pavilion, also make it appear much larger.

Housing two bedrooms a bathroom, open plan living and kitchen and a dedicated office, the main house opens to a covered room and fireplace, perfect to while away summer evenings. The garage block is self contained with a laundry and second bathroom and the loft above the garage provides another flexible space,
meaning the garage doubles perfectly as a guest suite.

This is a house that doesn't take itself too seriously and the playful spirit continues with the use of vibrant colour in the form of the fuscia front door, hot pink office and various coloured doors, offset against materials with a traditionally practical aesthetic. These include cedar shiplap weatherboards and lining, concrete floors, ply lining and concrete block.

The exposed timber trusses with black steel fixing plates lend an industrial feel to the space and coupled with the irregular appearance of the building instill a sense of the "Kiwi Can Do" attitude.

The staggered forms relate to the impressive view to due south and the orientation provides a grassed courtyard space to the north, ensuring both the views and the sun are maximised.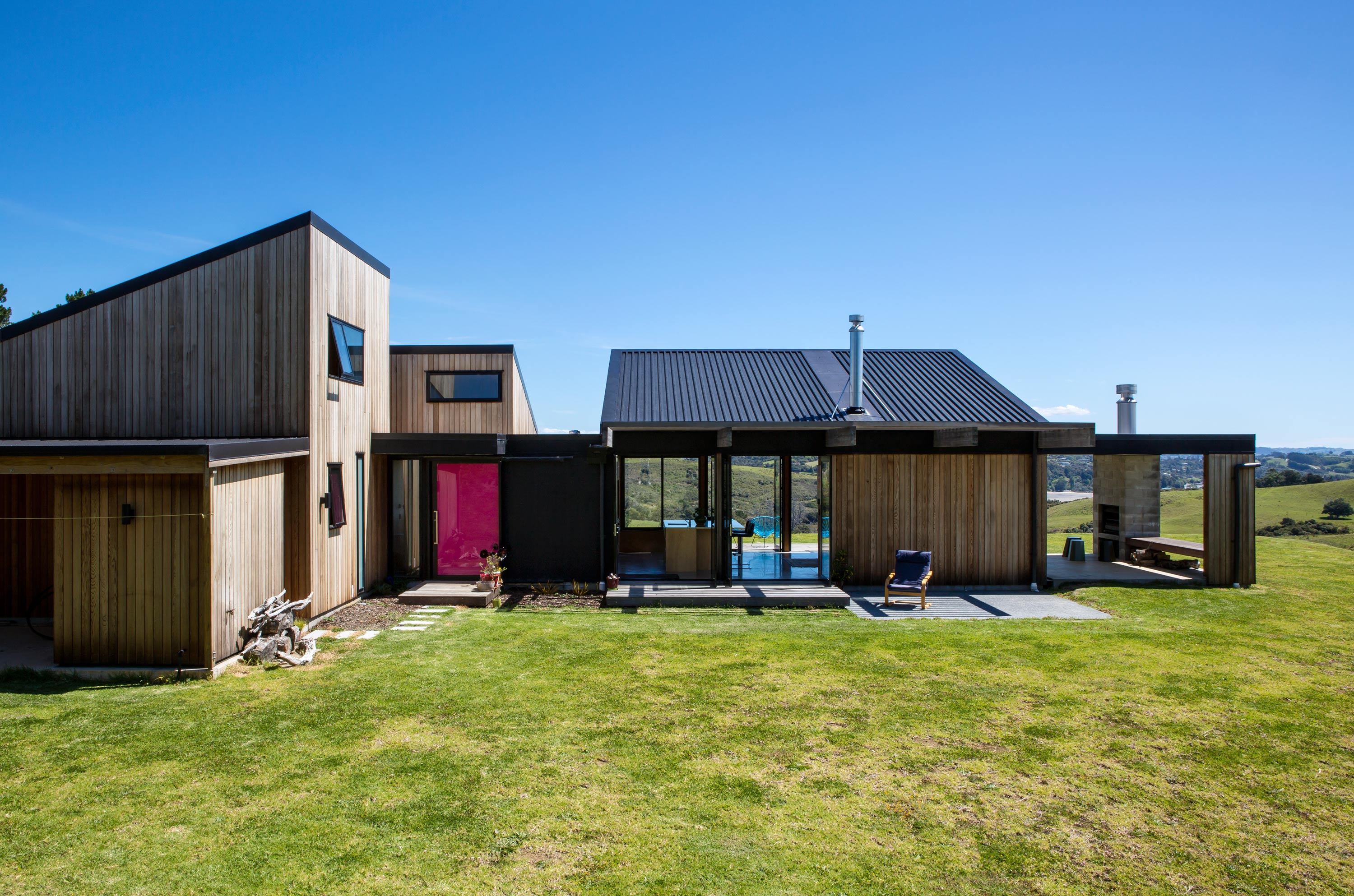 After engaging DAA to design a new home on a rural lot, I quickly developed a professional and trusting relationship with Tim.
Location - Matakana
Project type - New House
Year - 2018