Sentinel Rd
Info+
This classic Herne Bay villa at a prestigious northern slopes address, was previously split into two flats and required a major overhaul to make this a modern and flexible home for a family of four.

The traditional villa remains at the front, albeit completely updated. The main bedroom boasts a walk in wardrobe and ensuite and the substantial laundry and house bathroom are thoroughly modern. The four bedrooms are situated in the original house and this also includes a formal living room with traditional fireplace and panelled ceiling.

The original links to the new via stairs that step down a level, here a foyer which links to both the back and the side yards brings in light to the interior via full length windows and showcases a Mexican influenced garden. Further stairs link to a home office tucked under the original villa.

The contemporary pavilion extension is a dramatic contrast to the villa and provides the living functionality of the house. White bagged brick, black aluminium joinery and dark-stained herringbone flooring provide a robust and striking contrast of slick modern lines. This is a business at the front, party out the back type of arrangement.

The pavilion makes the most of the sun and privacy available and opens completely on two sides to the pool and backyard, seated at the dining table you feel as though you are eating al fresco. There is also a delightful covered courtyard space tucked in between the pavilion and the cosy family tv room.

This ultimate family home feels more like a luxurious resort with its lush planting and sun soaked pool and yard.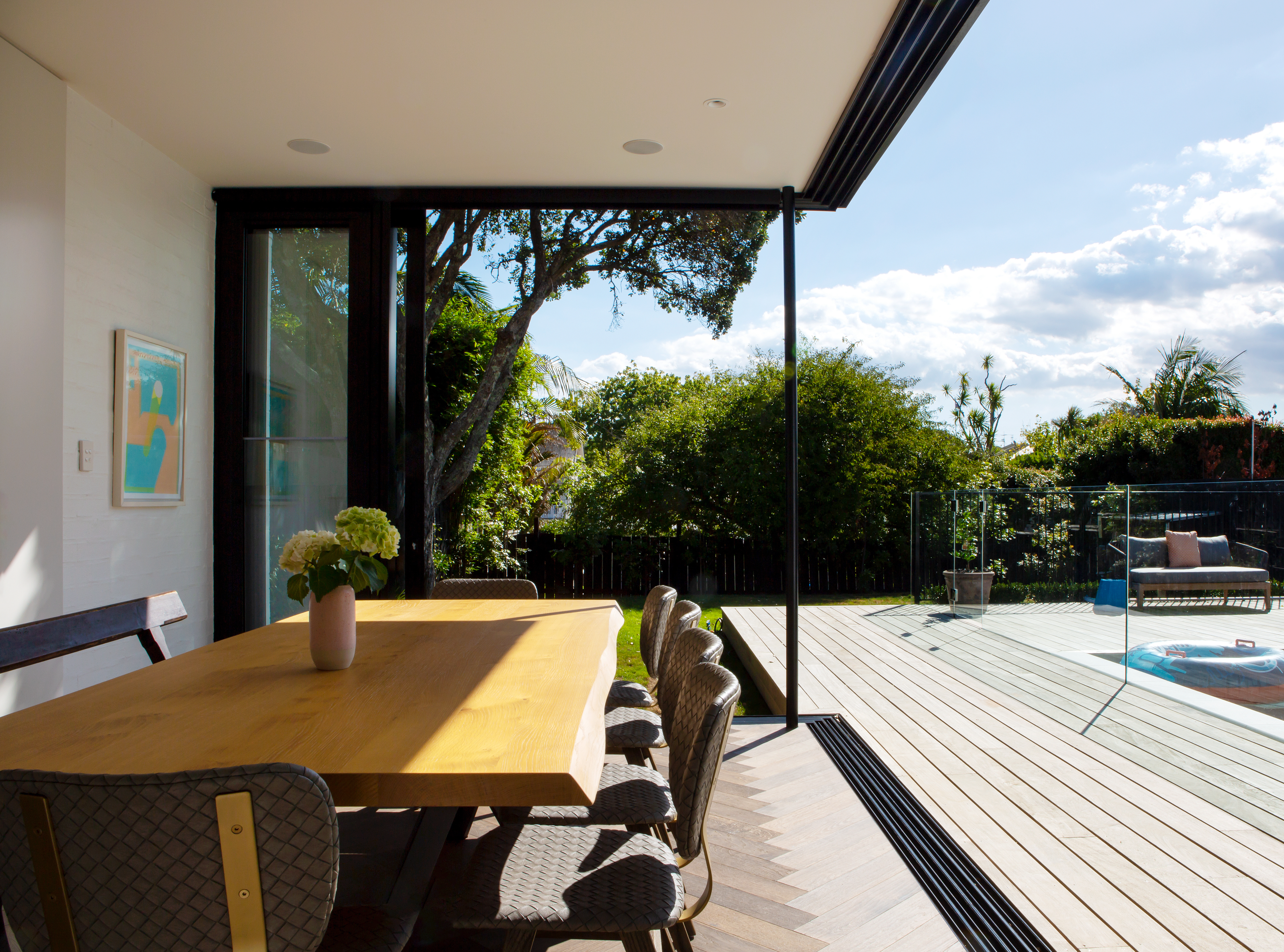 We had a number of issues during the planning and build process that Tim handled calmly and creatively. We would certainly recommend DAA to anyone considering a renovation or new build.
Location - Herne Bay, Auckland
Project type - Renovation
Year - 2019