Palm Road
Info+
The client's wanted a beach house to be used initially as a holiday home, with cozy spaces for the family to relax, a great kitchen for entertaining, room for guests to stay and plenty of outdoor living.

The elevated site overlooks Palm Beach providing expansive views seaward and 180 degree views of the bay. The prominence and slope of the site ensured views and sun but required careful consideration as to how the house would be sited to provide the necessary private spaces. A balance between public and private was essential to the design, the interior providing a more cloistered intimacy with the exterior embracing the expansive views.

The design also provides various living experiences, guests can enjoy the relative privacy of their own deck off their bedroom, the main living space can be opened to the outside via large glass sliders and the back western courtyard that sits tucked into the hillside, provides a more intimate area for friends and family to gather and enjoy the sunset.

The prominence of the site on a north-facing slope, mid-way down the beach and perched four rows back from the road required clever planning to give expansive views over the roofs below, shelter on windy days and privacy. Though on two and a half levels the house doesn't dominate the site and sits quite naturally on its rock plinth, with its honey tones blending into the landscape.

The use of various cladding types and privacy screens provide a good balance visually between the rock of the bunker and the rest of the house as it perches on top, without weighing the design down.

The upper level of the house sits above the bunker and opens to the view via large glass sliders at the front. Black operable screens at both ends of the main living space manage privacy and light into what is essentially a glass room on three sides. The fireplace blade divides the space in half designating the living and dining areas.

The downstairs bunker houses a media room, sauna, laundry and bedrooms and here the stonework runs inside to accentuate the bunker-like feeling.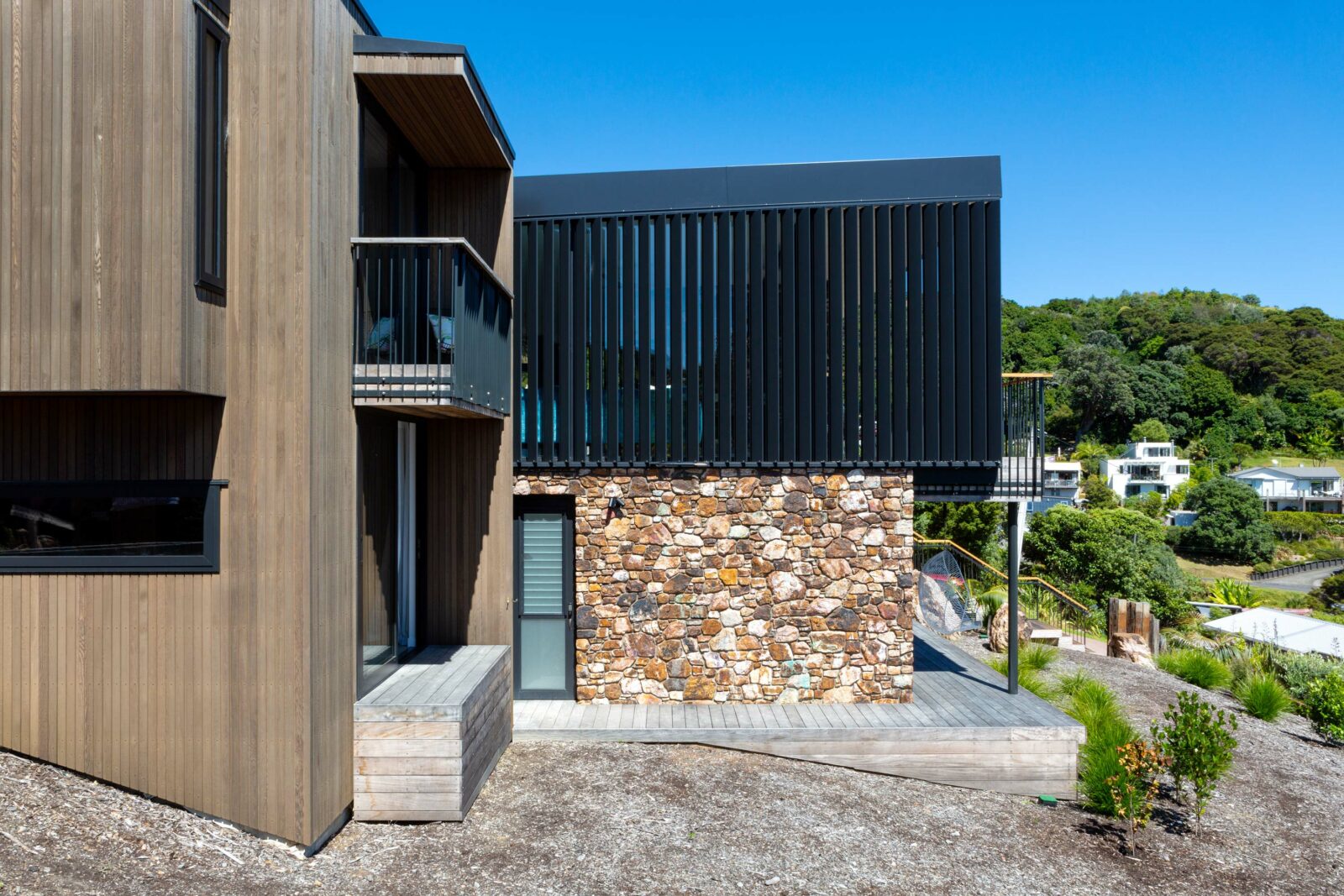 Location - Palm Rd, Waiheke
Project type - New House
Year - 2020