Cradock St
Info+
On an unexpected triangle of land, tucked alongside a stream in Avondale, lies a black blade of a home that turns its back on the suburban jigsaw.

At 100 square metres, this tiny house is stage one of a two-part project for a professional couple. They saw the new build as their opportunity to create a hidden oasis in the bush and showcase a collection of mid-century furniture, art and objects collected over the years.

Low-slung and enigmatic, its unassuming entrance is an aperture in the charcoal façade of grooved fibre-cement board. Beyond, a courtyard garden provides a buffer from the neighbours and access to the simple monopitch form.

A corridor from the front door leads directly to the living zone (you'll likely miss the secret doors to the two bedrooms). Honey-toned Strandboard ceilings supported by a regular rhythm of exposed laminated-timber beams set an industrial tone. This is picked up by the dark-stained plywood cabinetry of the kitchen, a furniture-like insertion within the open-plan space.

The house is a jewel-box for modernist pieces and is thoughtfully detailed to pick up on this theme: pops of yellow, orange and lime green on the front door and window jambs lighten the mood and the cubist tilework in the single bathroom is contemporary but artful.

With eaves that stretch up to the sky and a glazed-corner that gives seamless access to the north-west deck, the space feels bigger than its footprint. Just beyond, a protected stand of native bush guarantees morning bird-song forever.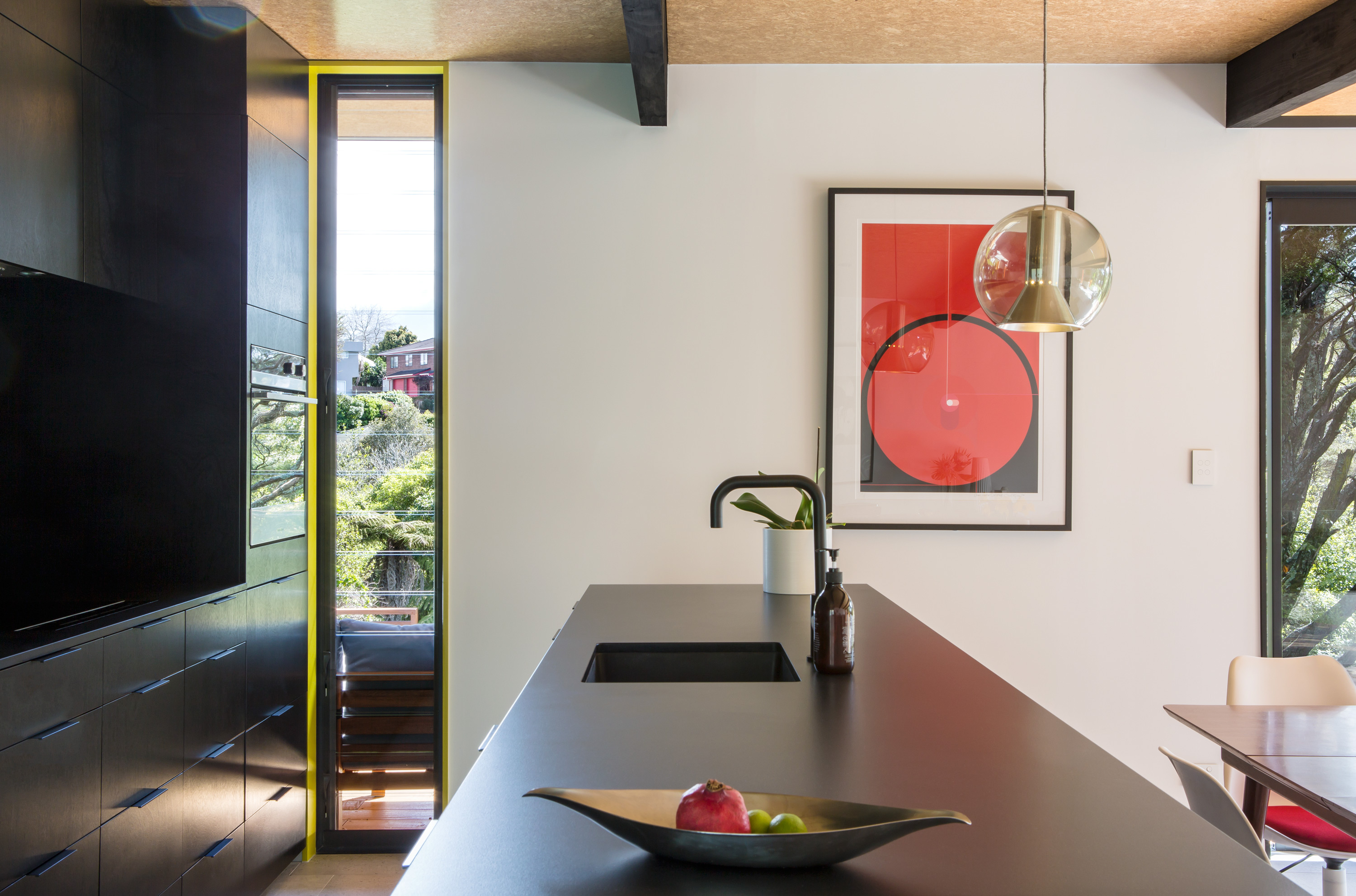 Tim was able to explain how the process of design and build would work to us really clearly, and the management of the project certainly lived up to these promises all the way through.
Location - Avondale
Project type - New House
Year - 2017