Bucks Bistro
Info+
As a beachside location the emphasis was for informal, a meeting place for residents and their friends. Incorporating indoor and outdoor dining and some in between and integrating a mix of French bistro and seaside café chic.

Exposed timber floors, large expanses of glass, blue awnings, white painted walls and a mix of furniture, including some banquette seating were required. The outdoor areas required robust but comfortable furniture that could accommodate spill-over from the restaurant and outdoor seating for al fresco dining. And finally an indoor fireplace was a non negotiable, to complete that home away from home vibe.

Sitting somewhere between a restaurant and café, the brief was to provide a local gathering point serving breakfast, lunch and dinner, with a takeout window for coffee, ice cream and takeaway food.

The idea of the design as a whole was to create a light and bright space with defined areas of interest integrated into the plan, such as the conservatory-like dining at the front and the bespoke banquette seating. These are multi functional and help define the entry, screen the maitre'd station and the service areas beyond and create a starting point for the restaurant itself. They give a sense of privacy to those sitting within their defined zones and provide a cosy dining experience.

Using the cultural significance of the location as a starting point and in reference to those who inhabited the land previously, the bar was envisioned as a pounamu-like material, the large slabs of green marble (Indian Green Imperial) was the closest matching green stone that could be found. This continues from the back wall of the bar to the fireplace plinth and helps to centre the space with its solidity. The pounamu green also references the seaside location and breaks up the predominantly white painted space with a bold jewel-tone finish.

A clean finish to the ceiling was chosen, without hanging pendants or plants, so as not to interrupt the view and crowd the space. White painted batten walls hark back to the seaside vibe and keep the interior fresh, airy and encourages the sun to bounce around in the space.

The servery window which operates outside of restaurant hours opens into a courtyard area with low comfortable sofas and is sheltered by a screen of vertical aluminium blades.

Indoor/outdoor flow, large openings to the view, metal fabricated 'picnic' tables, timber leaners with bench seating on the north eastern side and low level timber seating in the sheltered courtyard area all help to accentuate the casual vibe.


In collaboration with Samantha Elliot of Green Room Studio and Amanda Frecker formerly of Rice Restaurant.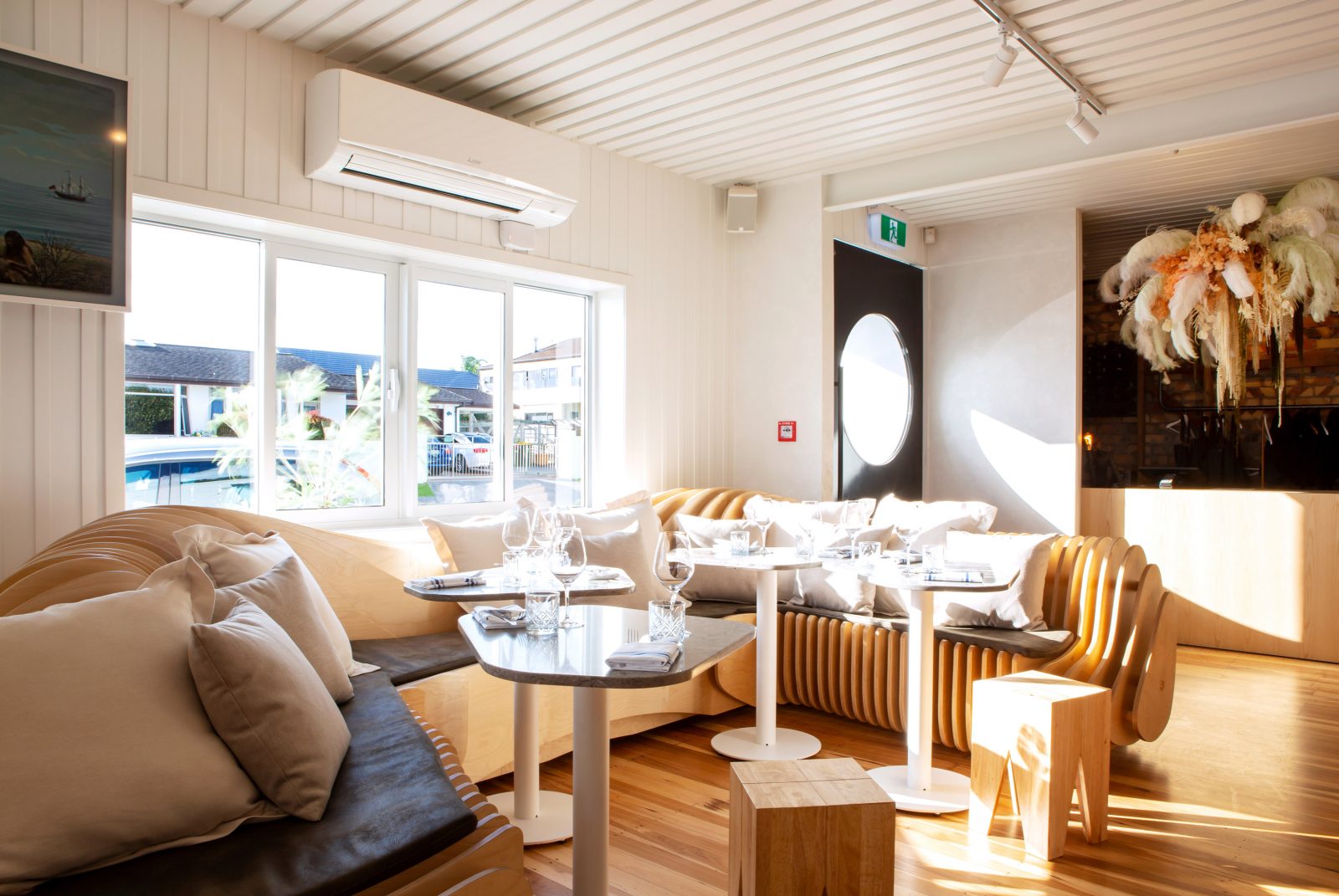 Location - Bucklands Beach, Auckland
Project type - Commercial
Year - 2021